EXP10000
EXP10000 Super Secret Settings Menu
EXP10000 DECT Cordless phones
Made by Uniden to be used on many different Business Class multi-line phone systems
Avaya 3920 (*D160)
Vertical
ESI
NEC DTL-8R-1
Toshiba DKT2404
All of these phones are identical. The only difference is the stickers on the phone and possibly some software settings.

* The Avaya D160 model made to work with IP Office is the same hardware but has very different software. This is the only model that cannot be converted to other brands. The parts can be used to repair other phones. The rubber keypad works but has some minor changes in the printed text on the buttons
The real difference is in the receiving base
The base has two circuit boards. There is a radio card and a phone card. The radio card is identical in all models but the phone card is specific to the phone system it will be used on. You can swap phone cards between any other unit including older Uniden cordless phones that are not DECT such as the EXP9300, EXP9700 and even older and newer systems.
Technically you could make combinations that never existed, such as a DECT cordless for Lucent Magix by putting the phone card from a EXP9700 designed for Lucent into the DECT EXP10000 radio base.
The phones will all work without issue between different bases. I use an Avaya 3920 base to test every EXP10000 phone sent in for repair no matter the brand.
There are some hidden programming option that changes how the top left button (F8) and bottom 4 buttons (F9-F12) work.
When you go into settings menu MENU - UP -UP Just below Base Registration PIN and above Exit the phone may say "One Touch Dial Settings" or that option may not be available.
NEC: One Touch Dial Settings ON, F8=Redial
ESI: One Touch Dial Settings OFF, F8=Function
3920: One Touch Dial Settings OFF, F8=Function
DKT2404: One Touch Dial Settings ON, F8=Redial
Veritcal: ??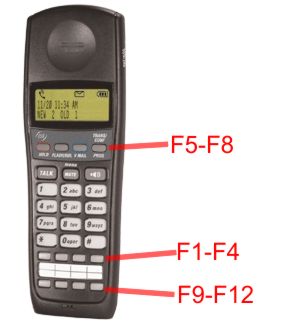 To Enter the secret programming menu remove the battery and while holding * and # keys put the battery back in. Keep holding * and # until you hear the second beep
Use the VOL UP and VOL DN keys to move through the menu and the MUTE key for select
TIP: Remove the plastic tab in the battery compartment as shown in the following picture. The only purpose to that tab is to try and prevent you from using after market batteries in your phone. It's complete BS. I cut them out with an exacto knife or flat edge cutters every time.
---
Showing 1 to 8 of 8 (1 Pages)