Repair service for KX-TGA450b
Flat fee repair service includes all of the most common problems and parts. It is rare for extra charges to be necessary and usually only for very obvious reasons, such as missing parts or a broken LCD display.

New battery recommended. If your battery is 4+years old you should buy a new one.
Parts and labor for most issues
Keypad repair with membrane keypad*
Battery terminals improved
90 day warranty
*Membrane keypad will be installed in any phone that shows wear on the button contacts
Regular turnaround time can vary greatly! Typical repair time for one phone is 3-7 days (plus shipping time) but it can take longer for many different reasons... holiday, sick time, difficult repair issues and vacations are some of the most obvious reasons for delay.
With RUSH Service you are guaranteed 1-2 day turnaround
Unforeseen circumstances can interrupt Rush service. If guaranteed turnaround times cannot be met you will not be charged for faster service but your order will still receive priority over others.
I Buy Phones In ANY Condition!

The Panasonic KX-TGA450b is a great little cordless phone. If treated well it will last you a long time but there are some common issues. The keypad lasts longer than the previous model 400b phone but these do still have some problems with the Talk, Off and line keys especially. Also the battery contacts are great when new and using the OEM factory battery but they can cause problems after they get old especially with some after market batteries.

New rubber keypads are almost impossible to get and only getting more difficult with time. Meanwhile more keypads are failing. The silver printing on the Talk and Off button wears off over time, especially as the buttons start to fail and more pressure is needed to activate them. Repair service includes laser engraving the Talk and Off text back on the phone. The silver printing cannot be restored. No paint, ink or glue will stick to a rubber keypad. Laser engraving allows the black ink from a permanent marker to stay safe from rubbing off.

Talk and Off buttons before and after laser engraving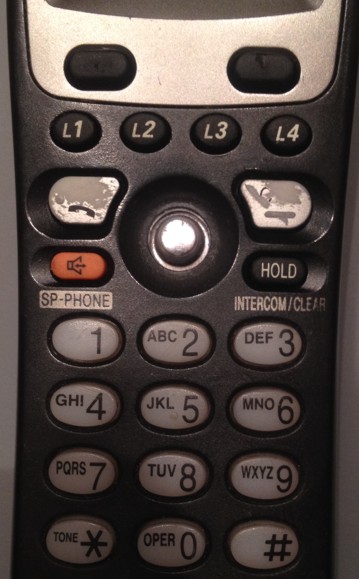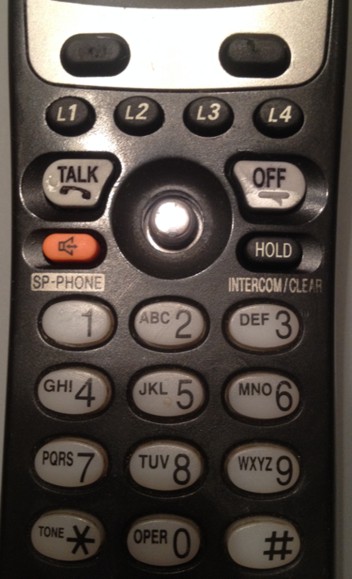 Click here for a video showing laser engraving of the KX-TGA450b Keypad

Broken Antenna

A piece of the front housing often breaks off when the antenna breaks.
After replacing the antenna it still looks terrible and a new front housing is too expensive.
I use a special molding plastic to fill in the gap while adding support and looking great!
It's not a glue so the phone can still be taken apart and repaired if needed in the future.

Battery contacts
The flat battery contacts found in the KX-TGA450b phone cause problems with age. When you have 2 flat metal plates contacting they are usually only touching in 1 tiny area and that is where all the electricity goes. Over time oxidation can build up while the springiness if the flat contact weakens. Poor battery contact can cause the phone to under and over charge the battery shortening the life of the battery.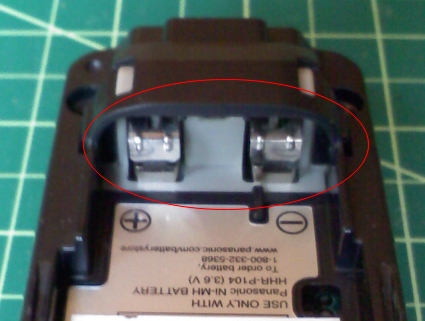 Repair service includes upgrading the flat battery contact to a real spring just like you see in most battery operated devices

Battery Level Indicator
The battery level shown on the display is little more than a guess. The phone cannot know the real state of a battery. After a few full charge/discharge cycles it will have a better idea of the true battery state but it cannot tell you about the health of your battery. If you remove the battery at any time (or if poor battery contacts are causing the phone to reset) then the phone forgets the battery data and assumes a different battery could have been installed.
Repair Service KX-TGA450b
Product Code: repair-service-kx-tga450b
Availability: In Stock
Tags: Repair Service, KX-TGA450b