Cordless Phone Repair Service

Flat fee repair service includes most problems and basic parts (speakers, microphones, simple components, etc..)
The standard repair fee does not include LCD displays, housing parts, antenna, battery, etc..

Model
KX-TD7896
Blank Display? Does the display light up when you press a button but contains no text? This is a very common problem with this model and is almost always repairable at no extra charge. If the LCD is visibly cracked then it's unrepairable. The only source for the LCD is from another phone and parts phones are rare.



Send in just the phone if...

LCD is blank

Phone has button problems

Broken antenna



Also send in the base if....

Phone does not communicate
Problem with sound
Anything that requires making a test call


DO NOT send in charger stands


DO NOT send in any power adapters or phone cords.






6 Month Warranty

Warranty covers the problem sent in for as well as most common issues. It does not cover unreasonable abuse, housing parts or the LCD display.
REPAIR PROCEDURE
Select any optional add-on services and add repair items to the cart.
Check out like you normally would with an on-line item purchase.
For repair service you do not have to pay at checkout.
Payment can be arranged after repair is complete and the order is ready to ship.
When you complete the on-line repair order, simply print the order confirmation and mail it in with your equipment for repair.
IMPORTANT: Please include a detailed problem description whenever possible.
** On-line orders are preferred but you can print and fill out this packing slip instead if you cannot complete an order on-line: LINK
Optional

New battery for KX-TD7896 - Please use the option checkbox to the right if you want a new battery with the repair.
New rubber keypad - This is only needed for cosmetic reasons (if your number lettering is worn off)
Antenna
New original antennas are $25 and I do not keep them in stock. They are often back-ordered and can take weeks to months to get them in.
I repair broken antennas with a chrome top.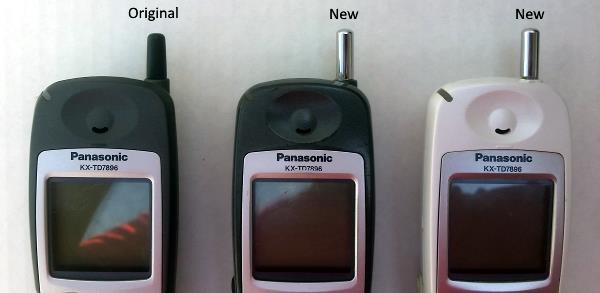 From Service Manual:
If you replace the battery before the low battery warnings appears, the battery strength icon may display an incorrect reading. In this case, use the handset as normal with the new battery installed. When the low battery warning is displayed, charge the battery for about 7 hours. The battery strength icon will then display the correct reading.
Panasonic KX-TD7896 Cordless Phone Repair
Product Code: KX-TD7896
Availability: 3
Related Products
Tags: KX-TD7896, KX-TD7896W, KXTD7896-W, KXTD7896W, KXTD7896